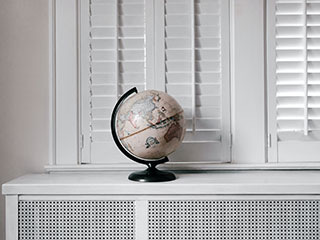 Window Shutters In Los Angeles
If you're looking for hard window treatments for residential or commercial properties, you've found the right company. The Window Shutters LA team is committed to offering free advice and consultations (with no obligation) to all interested parties. Window shutters offer a lot of décor to any room they're installed in. But there are a lot of other qualities that these hard window treatments have to offer.
The Origins of Shutters
The history of these window treatments can be traced back to over a century ago. Plantation shutters are the first iteration of these coverings and are often the image that comes to mind when people think about shutters for windows. Although they did originate from nineteenth-century southern plantation estates, where the hot and humid weather demanded a window covering method to mitigate heat and allow for controlled air flow.
Retro Turned Modern
Plantation style shutters, and the following iterations, began picking up steam a few decades ago. These window shutters started showing up in all sort of residential properties in various cities throughout California. In fact, plantation shutters because so popular in the West Coast, that for a time they were actually known as "California Shutters". The timeless décor of wood plantation shutters gives them a classic and elegant look, with the added perk of allowing for unique sunlight control. But there are all sorts of materials you can choose for your window treatments, as well as a huge range of designs. Plantation style window shutters have become quite popular near the Los Angeles area. In a town obsessed with style and fashion, it's easy to see why.
The Pros of Window Shutters
These hard window treatments have all sorts of advantages that can make them great for your Los Angeles office or home.
Low maintenance – window shutters don't require much in terms of upkeep. You can even have them custom made from faux wood materials to make them easy to clean and moisture resistant/proof.
Premium quality for cheap – while the décor contribution that window shutters offer is tremendously high, the price doesn't have to be sky high. It's easy to create beautiful shutters for cheap, with a quality that makes them durable and flexible. Window shutters are an investment that in the long run can end up paying for itself in energy savings.
Value adding – the addition of beautiful wooden shutters can actually increase the value of your home or office. These beautiful window treatments provide a lot of classic beauty with their rich texture and style.
Easy light and airflow control – you can switch from the open and closed shutter positions or opt for a range of midway spots. This is done with a simple pull or push of a lever, or with even less effort with motorized shutters.
Open shutters allow for natural air flow and create a light filtering ambiance. This will add spacious openness to the room and will give you a view to the outside.
Closed shutters help you maintain the indoor temperature, create warmth, and protect your furniture, wallpaper, and carpeting from the elements and direct sunlight.
Genuine elegance - add to the room's rustic décor with wooden shutters that bring a textured elegance to your windows.
When it comes to adding beauty to the room in a way that promotes utility, shutters are definitely the way to go.
Interior Shutters For Home or Office
This is a wonderful way to add beauty and light control to the room. Custom interior shutter designs are as varied as your imagination. You can easily choose materials and colors that enhance the interior décor without requiring a lot of maintenance. Interior shutters can consist of energy saving materials with minimal maintenance. Faux or real wood interior shutters can help you add to the room's elegance while also allowing for an easy way to save on heating or cooling. You've got a range of shutter design options to go with. Take vinyl shutters for example. They're easy to clean, and you can have them custom made in near endless color options. You need only consult with the Window Shutters LA team and see which materials and styles suit your taste and needs.
Exterior Shutters For Outdoors
This window treatment option is very popular as it enhances the décor of the house or business from the outside. You can go with exterior wood shutters with moisture and rot resistant coatings and cedar wood that naturally fosters these qualities. Of course, you also have the choice of going with faux wood exterior shutters that can mimic the texture and beauty of real wood while possessing a moisture-proof build.
Custom Window Shutters
With us, you choose everything from the color to the material and the style. Of course, you're not expected to just know exactly what you want for every aspect. That's why Window Shutters LA offers free estimates and no-obligation consultations in person. Call today to schedule an appointment and meet with nearby Los Angeles-based shutters expert. See what's available and learn which type of interior or exterior window shutters are the best ones for your office or home.