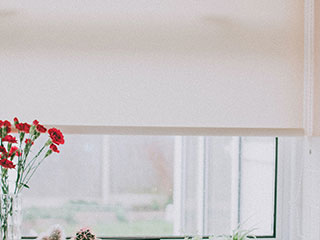 To protect you from UV rays and harsh sunlight glare, window blinds provide a covering solution with easy adjustability. Of course, there is a varying range of opacity that each type of window coverings offers. With blackout blinds, you can maximize the level of darkness inside a room as well as improve privacy. This makes blackout window blinds perfect for Los Angeles bedrooms, dens (where you watch TV often), and office spaces. Anywhere where you want ideal TV watching experiences and sleeping conditions can benefit from installing blackout blinds on the windows.
How Blackout Blinds Create Darkness
It's easy enough to cover the window to create shade or block sunlight, but blackout blinds offer you more. With overlapping vanes, these window blinds leave no gaps for sunlight to pass through. The opacity of the material means the light won't pass through the structure itself. But with other types of window blinds, you might find some slivers and slits between the vanes. Not with blackout blinds. They overlap just enough to prevent sunlight or the light coming from street lamps at night to pass through. That's when you fully close them, that is. Otherwise, the open vanes will let in light the same as other types.
Room Darkening Window Blinds Vs Blackout Curtains
You've also got other options, naturally, as the world of window coverings is rich and extensive. Blackout curtains can also provide efficient methods of darkening rooms and adding privacy. Of course, as far as adjustability and precise control, blackout blinds beat curtains. You can argue that elegance and style give blackout draperies the upper hand. But as far as rigid versatility, blackout window blinds with adjustable vane position offer a more nuanced solution. The curtains you have to move across their rods to cover or expose the window. The blackout blinds simply need to move their vanes to do that.
Motorized Blackout Blinds
For the purpose of improved convenience, we also offer Los Angeles area clients custom made motorized blackout window blinds. These automatic room darkening window coverings give your bedroom, office, or any other space the effective and quick remote control features that so many people want. Got into bed and forgot to draw the blinds? With motorized window treatments, you don't need to get up. Push the button and your electric blackout blinds will close themselves. And it's the same when waking up. You don't need to get out of bed or get off the desk while you're busy working to draw the blackout blinds. Motorized features let you use Wi-Fi or Bluetooth as the main remote control connections. That means your phone or tablet device can become the controlling handsets.
Where To Get Blackout Blinds Near Los Angeles
If you've read this far, surely you know the answer. Our local professionals specialize in crafting custom made window treatments for all needs and purposes. Interested in getting a free estimate on blackout window blinds for your local business or home? Give us a call and set up a no-obligation in-person consultation with the best blinds installers in the area.