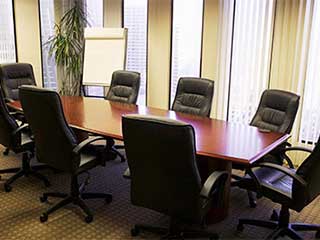 Some types of window treatments work better for specific types of openings. Whether it's especially long windows or sliding glass doors, vertical blinds can offer you a lot of benefits. Have a window or some screen doors that you think can benefit from something more specific than just random covers? Then vertical blinds can offer you something worth considering, at the very least. Find out more about what these vertical window covers can do for your Los Angeles property.
Vertical Blinds For Sliding Doors
If you've got glass sliding doors leading to your backyard patio (or anywhere else) consider covering them with vertical blinds. Why? Because vertical blinds do a better job of blocking sunlight coming through larger openings than their horizontal counterparts do. With –to-wall windows and screen doors, vertical blinds offer enhanced utility. That means doing a better job at the purpose you set for them (i.e. blocking sunlight). And remember, you can get them made in all sorts of designs, ensuring you add to the interior décor while you're at it.
Custom Vertical Window Treatments
When it comes to design options, our custom vertical blinds can suit all sorts of decors. You can get them made from vinyl, colored in any shade you want. From off-white to various cream and teal shadings. You get to decide exactly which color and design pattern your new blinds flaunt. You can also go with the simple and classic aluminum vertical blinds which you often find in office spaces. Speaking of which:
Perfect Blinds For Office Windows
You'll often find vertical window covers on office windows, as those tend to have larger-sized glass screens. Many office buildings have wall-sized windows to let in as much sunlight as possible during the day. That's just the type of situation where vertical blinds can fit perfectly. And that's why you can usually find vertical window treatments set up in various commercial properties throughout Los Angeles and nearby. Vertical blinds serve businesses really well by allowing employees to reduce or increase how much sunlight gets through whenever they want. To a much more nuanced degree than horizontal covers do.
Motorized Vertical Blinds
Want to control these blinds with a remote? Our motorized window treatment specialists can build your automatic vertical blinds with any form of control method you want. The options range from the classic button-set remote to motorized vertical blinds with Wi-Fi connectivity. That means using your smartphone or a tablet to adjust them as you see fit. You've got all sorts of other methods of control to pick from, including self-adjusting electric blinds and even smart covers. Schedule a free estimate at your home in or near LA to find out more about our custom motorized blinds, vertical and horizontal.
Vertical Blinds For Anyone Near LA
No need to guess whether or not these window treatments will work for your needs. Window Shutters Los Angeles offers free estimates with an in-person consultation. Have an expert come over to show you all sorts of design samples and consult you on the different features and enhancements you can choose for your vertical blinds. With our help, you'll get something both high-quality and affordable, with a great warranty.