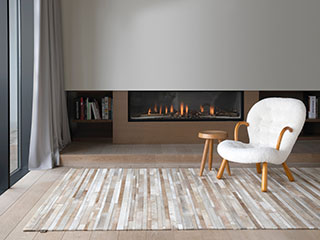 To improve functional control over natural lighting, as well as add a new aesthetic to a room, consider motorized window blinds. These automated window coverings can offer you all sorts of efficient and smart remote control features, making the daily routine a lot easier in multiple aspects. Motorized blinds with Wi-Fi provide a complement to Smart Home systems. This makes it easy to incorporate motorized window treatments into the main command center of your property. For the Los Angeles area, we offer free estimates on motorized blinds in a wide range of styles. You can consult with our professionals to find new electric window coverings that provide décor and efficient sunlight control features.
Motorized Window Blinds Make Things Efficient
While it doesn't take long to walk over to a set of windows and draw the blinds, often it's an annoying activity to engage in, even for a few seconds. What's more, you have to remember to do it, and if you forget, you can have too much sunlight and a lack of privacy at certain times. With motorized blinds for Los Angeles windows, you don't need to worry about that. A simple command input via remote control and the motorized blinds will respond immediately. You can even get motorized blinds with brightness sensors installed. This way, when it gets too bright, the blinds will close. Alternatively, when morning comes, the blinds will open to let in sunlight. It's a far better wake-up method than an alarm.
Blackout Blinds Motorized For Your Bedroom
Imagine you climb into bed, all snug and warm, and you suddenly realize you didn't close the blinds. Not only will this cause you to wake up far too early because of sunlight, but it also leaves your Los Angeles bedroom with no privacy. Sometimes, we just don't feel like getting out of bed when we're tired. In fact, when do we ever feel like it? Well, motorized blackout blinds will save you the hassle. You push the button and the blinds will close right away. This also comes in handy when it comes time to wake up. The same method applies, and you can let sunlight in with the push of a button. With blinds motorization and automation, you can have this process take place without your input. Your bedroom blinds can close and open according to the time of day or level of light present.
Motorized Curtains and Drapes
For more lavish looks and some added aesthetic elegance, some choose to get various curtains and draperies installed rather than blinds. Well, that doesn't mean you have to forgo window covering motorization features. In fact, motorized curtains are very popular for Los Angeles homes and commercial businesses as well. With the addition of motors, curtains and drapes can slide across automatically. You determine when or how far. Remote control motorized curtains offer a decorative look that also brings a sense of high-tech innovation with it. This makes them great for offices, condos, and various residential and commercial properties.
Los Angeles Motorized Blinds Installers – Best Near You
To learn more about the different options, and see what sorts of motorized blinds, shades, and drapes we have to offer, give us a call. Our free consultation appointments allow clients to look at all sorts of beautiful motorized blind designs to find what works best for them. Schedule your free estimate on motorized window blinds for Los Angeles area customers today!