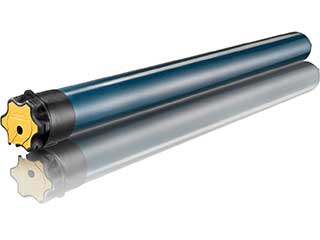 The newest solution for window coverings is automatic blinds, and these systems are an amazing addition to any home or workplace. One of the leading brands in the marketplace, Somfy motorized shades offer amazing utility and great looks in one convenient package. Versatile Somfy systems work with rolling shutters or classic shades and offer a range of materials from sheer to blackout. Opt for maximum convenience and aesthetic appeal by choosing from our wide range of Somfy window coverings with silent motorized systems. Los Angeles area buildings can benefit from motorized window shades and blinds, with low-cost systems built to fit. Find the features and style that fit your needs perfectly.
Rolling Shutters - Large Window Covers
It's easy to cover up large windows with motorized window covers, and with a simple wall switch or remote control handset you can adjust the position of Somfy blinds easily. This is ideal for large windows, and rolling shutters are built sturdily to provide extra security for large windows.
High-Quality Motorized Blinds
With WiFi and smartphone connection options with Somfy window shades, they're a great match for commercial and residential properties. Skip the traditional remote control and use your smartphone to control your Somfy motorized blinds instead. High-tech features let you connect these blinds to your smart home devices, so you can even use voice control to operate these window coverings.
Somfy Outdoor Motorized Shade Solutions
You need adequate shade coverage for your patio and deck areas, and Somfy's motorized screens and canopies are the perfect way to do so. All these systems are designed to fit perfectly with your existing shade structures, such as pergolas or gazebos, and motorized awnings provide an easy way to get protection from harmful UV radiation. You'll find it much more pleasant to spend time outside when you install custom Somfy outdoor shades. Motorized patio covers with Somfy controls are high quality and reliable, and are available in waterproof builds to provide protection from all types of weather.
Nearest Somfy Motorized Blinds Source in Los Angeles
We offer free consultations at your property. Our specialists provide all the information you need and give you a great price on custom made Somfy motorized window coverings. Decide on the designs that work best for you, and find out what Somfy shades can do for your Los Angeles home or business. Call today to arrange your free appointment and begin designing your perfect Somfy motorized blinds made to size.