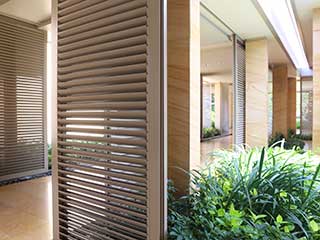 Oftentimes, window shutters are installed on the inside the room itself. However, there are several benefits to going the opposite route and choosing to have them set up on the exterior side. By keeping your new shutters outside of your home, you gain several benefits. Not least is that your property will benefit from the attractive design. With a huge range of different shutter designs to choose from, you're sure to find a design perfect for your property. Custom exterior shutters can fit over pretty much every window. It's up to you to decide which style, material, and color you want. But don't worry. You've got the experts here at Window Shutters LA to consult with.
Why Choose Exterior Shutters?
Many people choose exterior shutters for houses because they provide lots of practical benefits. First of all, exterior shutters allow you to easily install a second layer of window coverings inside your home. These could be light curtains, drapes, or any other covering. You'll have more options for controlling natural light, as well as great design abilities. The other benefits are practical. Shutters for outdoors do a lot to enhance your home's look while also offering various types of protection. Exterior shutters don't take up space inside your rooms. They can also provide a level of security to your property when they're shut. Not only will they make it harder for burglars to break in, they'll also protect your windows from damage.
Choosing Exterior Shutters For Windows
When you're trying to decide on the perfect window treatments at your property it can seem overwhelming. There are dozens of different designs, materials, and styles. It's no wonder why many homeowners struggle to understand exactly which exterior shutters are right for them. Different materials offer different benefits. For example, wood shutters look great and are very durable. However, they require more maintenance than faux wood or vinyl shutters. A no-obligation consultation with the local experts at Window Shutters LA is the best way to decide. Find out exactly what's right for your property without having to commit to buying anything.
Exterior Shutter Designs And Styles
You're not limited by a restricted range of custom exterior shutters. All of the many custom window treatments design options are available to you. This includes different finishes and colors. That means you can choose a set of white exterior window shutters that complement your home's aesthetic perfectly. Alternatively, you may decide to go for a more natural wood finish, introducing a little more classic design. You're free to choose whatever suits your taste best. With all help from the local experts at Window Shutters LA, you'll have an easy time finding the right window shutters design for your business or home.
Find The Perfect Exterior Shutters Today
All of the practical and design benefits of exterior shutters can be yours. Simply get in touch with the team at Window Shutters Los Angeles to schedule your free no-obligation consultation. From plantation style coverings to all sorts of vinyl or PVC exterior shutters. Find the right custom choice for your property with an in-person consultation (obligation free) and get a free quote.