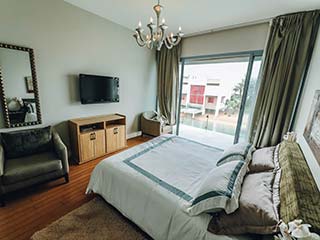 There's a style of curtains or shades for every room. For bedrooms and ground floor parlors that need good light protection sometimes and open windows at others, blackout draperies and curtains are the way. These acrylic-backed fabrics block sunlight like a solid wall while keeping the airiness and movability of any other curtain. With some stylistic choices, you can make blackout window curtains a credit to the indoor decoration scheme as well as valuable quality of life enhancers. Studies show that bedrooms with blackout curtains provide the healthiest and most consistent sleep! Looking for the best shading solutions for a nearby Los Angeles property? Motorized smart Somfy window curtains offer you blackout conditions and completely wireless control options. Optimize energy efficiency and natural light usage with these effective blackout drapery options.
Blackout Window Curtains Basics From Los Angeles's Best Source
Any curtain that keeps out all light and visibility is a blackout curtain. In practice, most of them are either polyester, wool, or a mixture of the two, with an internal or backside layer of flexible plastic. Blackout window curtains tend to be on the heavier side, but no less flexible or easy to move for that. The "blackout" descriptor refers to their light-blocking ability and has nothing to do with color. Cream, carmine, and even white blackout curtains are all popular choices. You can also order a custom set with extra decorations or features, including Somfy control systems for motorized blackout curtains. Using these room darkening draperies to create ideal sleeping conditions in your Los Angeles property lets you rest better. This positively affects your health and mood. Motorized blackout curtains, using different smart Somfy controls, can let you automate natural lighting usage.
Room Darkening Curtains, Drapes, & Valences
Blackout window curtains come in a range of sizes and styles. At their smallest, they can be short curtains that cover just a standard twenty-four by thirty-six-inch window's worth of space. At their largest, blackout draperies that hang from the ceiling and trail across the floor make spectacular bedroom window and glass door coverings. You also don't have to rely on blackout window curtains alone. Placing your obscuring curtains or drapes over a lighter window treatment lets you choose the intensity of sunlight as well as turn it off. If you feel like tall blackout drapes are too monotonous, you can also add side-curtains or valences. Blackout window curtains with valences in a complementary color are some of the most ornate indoor decorations out there!
Somfy Motorized Blackout Curtains
Getting back to the practical side, blackout window curtains are an environmental control system and security measure on top of providing comfort and decoration. Excess sunlight coming in through the windows is one of the biggest contributors to people overusing their air conditioning. Motorized blackout curtains with timers, computerized controls, or internet connections keep the worst of the sunlight out even when your Los Angeles home is empty. They also do a much better job than hand-drawn curtains at preventing passersby from seeing in through windows visible from the street. Automatic blackout window curtains using Somfy controls can close themselves during hours when the foot traffic outside is heaviest can lower the chances of burglary.
Free Estimates For Custom Blackout Window Curtains
Finding the right shading solutions for your needs can be fun with the right advice and guidance. Our Somfy motorized curtains experts have a lot of knowledge to share with you. And our huge collection of drapery designs give you tremendously diverse options. You can get a quote on motorized blackout curtains for your Los Angeles area residence or business before ordering anything. Complete with delivery and installation, our service package covers everything. So book a free consultation today to get a free estimate on any blackout draperies you like.