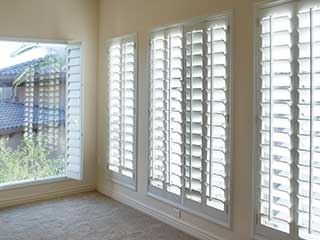 High-quality custom wooden shutters can be an excellent addition to any property. Window Shutters LA offers no-obligation consultation services and free estimates on custom shutters. This applies to residential or commercial properties. You can always get expert advice on how wood shutters can benefit your home or office. These wooden window treatments are designed to provide long-lasting reliability and a high level of quality. That's why wood, whether composite, cedar or any other kind is one of the most popular shutter materials around.
Pros And Cons Of Wood Shutters
A new set of custom wooden shutters are a great way to add classic design to your home. However, it's important to understand the reasons why you might choose another material instead. For example, wood needs to be regularly maintained in order to avoid problems with damp. This requires regular cleaning. If the wood finish becomes damaged it will also be necessary to repaint or reseal it. This makes wood shutters a more high-maintenance option than other materials. However, there are plenty of advantages as well. In addition to looking great, wood shutters are very durable. They won't shatter or dent, unlike vinyl and metal, and are extremely hard-wearing. As for the high-maintenance part, while true, wood shutters can be stained and painted with a protective coating to preserve their condition.
Your New Custom Wood Shutters
When you invest in a set of custom wooden window treatments, you'll need to decide whether you want exterior wood shutters or not. These will look great, with a range of different colors and designs to complement your home's aesthetics. However, interior wood shutters won't be exposed to the wind, rain, and sun as strongly. They're a great way to add the classic appeal of timber to the interior décor without worrying about it being exposed to the elements. Wood shutters indoors can be expected to be lower-maintenance. You have greater control over the temperature and moisture level inside your home or office after all. However, wood shutters outdoors provide an unmistakable benefit to your property's looks. They can be treated to withstand certain weather conditions as well. They also save space inside and can be complemented with other window treatments.
Faux Wood Shutters
While real wood shutters might provide that unmistakable classic appeal, it's not your only option. As previously mentioned there are some compromises to make when using timber. However, modern faux wood shutters are absolutely indistinguishable from the real thing. With genuine wood grain effect and a range of colors on offer, you can be sure of getting the same attractive finish with none of the drawbacks. This material can be used in many different designs, including faux wood plantation shutters. These classically elegant window treatments are great for outdoors due to their moisture resistant/proof nature.
Free Estimates on Custom Wood Shutters
The local experts at Window Shutters LA offer everything you need to make an informed decision. Your new window treatments can look and feel exactly how you want them to. It's just a matter of choosing the color, the texture, and the extra touches or enhancements you're looking for. Get perfect peace of mind with a no-obligation consultation. Meet with an expert to get a free quote on a set of new custom made wooden shutters.