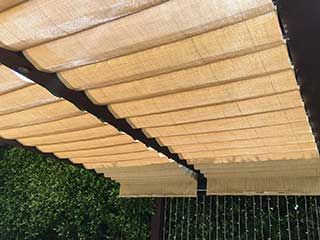 While covering your windows to protect your indoors is important, that's not the only place that needs proper shade. Your backyard patio is another major area where utilizing different types of covers will serve you well. The same goes for decks, gazebos, and courtyards Our LA patio shades experts specialize in making custom shading products that suit every customer's needs. Want pull-down exterior roller shades screens to add as flanking walls for your patio? We've got anything from walnut to sesame to vibrant colors. And you can get far more than that.
Opaque and Sheer Outdoor Shades
You can do more than block sunlight with our patio shades. Choose the material you want and the color that suits you, and add to the backyard ambiance. Patio shades help protect you from UV rays while allowing you to benefit from the breezy ambiance of the outdoors. You can also reduce some of the heat without restricting airflow. Outdoor shades will create a pleasant shaded area for you to enjoy. If your Los Angeles home has an outdoor kitchen setup, patio shades make for an excellent enhancement for that area.
Waterproof Outdoor Shades
Good news. The patio shades we can make for your Los Angeles property don't have to only payoff in the summertime. With special materials that require no extra maintenance (unlike regular fabrics), you can have your patio shades waterproof and able to withstand any drizzle. That means you can continue to use your backyard, gazebo, or decking for whatever you want, whenever you want.
Exterior Roller Shades
These make for some of the most common types of patio shades. The simple pull-down of cordless exterior roller shades provides a simple way to create a shaded area with minimal effort. If you've got young kids, cordless exterior shades will serve you better than other types. Dangling strings can pose some entanglement dangers, so it's usually better to go the cordless exterior shades route. Of course, you can also take things a step farther with some high-tech innovations.
Motorized Patio Shades
With the introduction of motorization as a viable shade control method, motorized exterior shades have become one of the latest innovations. Instead of the regular pull-down options, you can opt for motorized exterior shades for your LA backyard. Those will respond to remote controls via radio or Wi-Fi. You can even use your smartphone to move them up and down. But lateral movement isn't the be-all and end-all. We've got motorized patio shades that serve as overhead covers, which you can also control remotely. With overhead patio shades, you can create a significant shaded area whenever you want and find reprieve from the harsh sun or stormy weather. And you've got options in terms of installation too. You can go with wired motorized patio shades or battery-powered variations. Furthermore, you can also go with solar patio shades that harness the sunlight to power themselves.
Cheap Patio Shades In Los Angeles
Live near the greater LA area? Then we can help you find the perfect patio shades for your residential or commercial property. Creating a comfortable and shaded backyard lounge area doesn't need to cost you an arm and a leg. With us, you get quality patio shades of all types at low costs and from top-quality materials. Schedule a free estimate with the Window Shutters Los Angeles team and tell us what sort of exterior shades you're looking for. We offer a wide range of covers and window treatments for both indoors and outdoors. So you're bound to find the perfect match for your budget and needs with us.