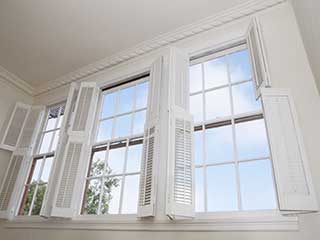 Classic and timeless, plantation shutters are a fantastic way to make your home look and feel even more attractive. These window treatments are famous for their southern-style décor, which originated a couple of hundred years ago. In the past couple of decades, these coverings have gained in popularity along the West Coast. If you're looking for plantation shutters near you, then Window Shutters LA has the answer. With a wide range of different shutter designs and materials, you'll be sure to find a match for your property. Plantation shutters on bay windows are no problem and can be created to meet your specifications. Likewise, a huge number of different designs are on offer, including white plantation shutters.
Your New Custom Plantation Shutters
There's no limit to the choices you have when choosing your new custom window treatments. You might choose interior plantation shutters. When you keep your plantation shutters indoors it helps protect them from the elements. They can also be easily operated from within your property. On the other hand, you may choose to install exterior plantation shutters. By keeping your plantation shutters outdoors you can enhance the appearance of your property. You'll also be able to install complementary window treatments inside. This can provide additional privacy and natural light control.
Choosing The Right Shutter Material
Custom plantation shutters are available in a large range of different materials. These all offer different benefits and are ideal for different properties, so whatever your particular requirements you can be sure of finding the perfect new plantation shutters. A great option to start with is faux wood plantation shutters. These offer all the benefits of real wood such as attractive grain and a range of different finishes. However, they don't require as much maintenance as the real thing, making them practical as well as good-looking. Vinyl plantation shutters are another great option, providing a low-maintenance yet attractive option. These can be supplied in a range of finishes and colors to suit any property.
New Plantation Shutters In Any Room
Some windows might seem harder to fit shutters to than others. However, the local experts at Window Shutters LA offer custom window treatments to suit any installation. Plantation shutters for sliding doors are a popular choice. They offer great privacy and natural light control on these large areas without obstructing your entry or exit. Similarly, plantation shutters on French doors are a great way to keep privacy high. They bring comfort to a maximum without compromising on practicality.
For Your Business or Your Home
These hard window treatments (popular in white) are a great fit for lots of décor styles. They can work for both residential and commercial properties. Plantation style shutters for office spaces and various businesses like hotel and restaurants can really contribute to the overall décor. It's all about matching the shutters to the room's current style. Of course, you have someone to consult with to ensure you're making the best choice for your property.
Plantation Shutters Installers In Your Area
Why wait any longer to benefit from custom window treatments? Custom plantation shutters are a great enhancement to any property. These window coverings offer practical benefits as well as an attractive and appealing design. Get in touch with Window Shutters Los Angeles today to arrange your no-obligation consultation and get a free quote.