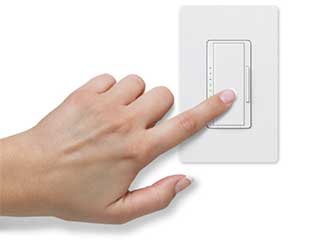 Smart window shades used to just be time and effort savers. Nowadays, with smart controls like Lutron's, they're actually money savers as well! A lot of the unwanted heating and cooling a building undergoes happens through the window panes. With smart shading solutions, the windows will always be exposed or covered as needed to keep the temperature under control! Smart motorized blinds also go out of their way to protect your furniture and wallpaper from sun bleaching, even when you aren't around to adjust them. Here in Los Angeles, you can get your own Lutron shades or blinds made to personal preference and installed at any local address. Our team will combine the style you want with your choice of control systems and special features. We'll even give you a free estimate before you have to agree to anything!
Lutron Shades For Any Aperture
We've covered a lot of Los Angeles windows with our custom made Lutron products, but not only them! Motorized shades add beauty and protective utility to sliding doors, glass walls, and skylights as well as traditional windows. With our consultation and measuring services, we'll make sure to give you some Lutron shades that cover any needed surface with no annoying gaps or cracks. Of course, different sizes and orientations of shades call for specific models of motorized window coverings. We'll tell you which model of motor is best for your shades, and help advise you on control systems and extra features for it.
Motorized Shade Styles To Choose From
Shades can look like almost anything, and come in a range of different materials. Lutron's motorized shades can include solar fabrics that let in soft light while keeping off the UV rays and glare. You can also choose blackout fabric shades, that keep out 100% of the sunlight while they're down. When it comes to style, you can choose anything from simple motorized rollers to fancy, pleated Roman shades. If you want more options for light control, sheer shades with built-in blinds slats give you unrivaled versatility.
Los Angeles Lutron Motorized Shade Solutions
Call and set your free consultation appointment. We'll talk you through the options for sunlight and heat sensors, integrated home networks, Wi-Fi controls, and any other features you could think of. Let's get started on your new set of motorized smart shades for Los Angeles area businesses or homes!