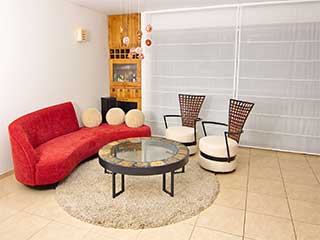 So what differentiates Roman shades from other window coverings? Well, it's their unique design, that's what. While these shades do roll up and down in a similar way to other window covers, their pleated structure makes them distinct. Roman shades have a sense of elegance and décor that's become incredibly popular. You can find them in all sorts of property's throughout LA and in many rooms all over California, and the whole world, really. But do they have any other benefits? Let's find out.
Roman Shades – Origins
The name does come from the ancient people. These shades started in Roman times and made for a simple and popular way to provide some shade from the sun and to cool down interior areas. The name stuck through the years, as did the shades themselves. And this ought to clue you in as to how compelling and well-crafted Roman shades are. If they survived this long, there's a dang good reason. A few ones, actually.
How Roman Shades Work
What distinguishes Roman shades from other coverings is their structure, as we mentioned earlier. They've got rigid rods inserted into the fabric at equal sections, thus creating segmented pieces of cloth. When you draw the Roman shades all the way down, they stand flat and cover the entire window. But when you pull them up, that's where the "magic'| happens. The segmented sections fold and stack onto each other when you do that, creating the famous pleated Roman shades look that's so very popular. People often combine Roman shades and curtains or valances to get a pleated design enhancement that's undeniable.
Why Do People Like Roman Shades?
The pleated look of these window coverings adds a lot to the room's décor. It serves as an eye-catching interior design feature that draws the attention. Roman shades don't just hang there; they let you know they're here with their unique pleated look. You've got all sorts of different designs to choose from too, by the way. Like fisheye, hobbled, banded, London-style, and a whole lot more. You can really boost up the interior design of your living room, kitchen, bedroom, and even office windows with these gorgeous looking pleated shades.
Flat Roman Shades
Many also prefer the flat variation of these coverings, due to its more simplistic design. The pleats of flat Roman shades sit very close together, giving the shades a very, well, flat look. This elegant yet unassuming décor style makes for perfect additions to rooms where you don't want to "steal the show" with the Roman shades, but rather contribute to the existing design.
Relaxed Roman Shades
Shades of this style hang lower in the middle when they're stacked, which gives them a casual chic vibe. Relaxed Roman shades make for one of the most popular options, as they have a unique look but not a garish one. The extra dip that they have creates a nice and beautiful look without becoming overbearing. They're practically "smiling" at you whenever you draw them. That's why many folks tend to go for relaxed Roman shades for living rooms and other rooms where you want a modest look that has some soft décor touches.
Roman Shades In Los Angeles
Want to add these pleated coverings to your windows? The Window Shutters Los Angeles team specializes in making custom Roman shades in any style you choose. Give us a call to schedule a free estimate and see all the variations and customizable options you can choose for your new Roman shades.